Contact us
QINGDAO RILI TYRE MANUFACTURING CO.LTD
Tel£º+86-532-82301582  +86-532-85016778
Fax£º+86-532-84309130
Mobile£º+86-13780633610
Contact£ºMr Liu
Postcode:266731
E-mail£ºrilialice@rilityre.com.cn; manager@rilityre.com.cn
Address£ºLIAOLAN TOWN ,PINGDU,QINGDAO,CHINA
Chinese auto parts members wraps up learning in America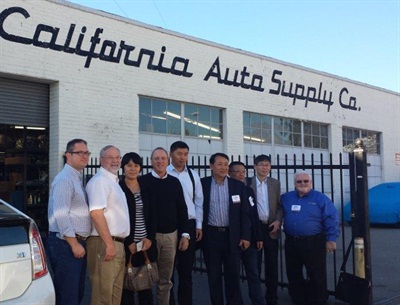 (Charter members from China visit California Auto Supply store of Hanson Distributing Co. in Pomona, CA (from left): Dan Hanson Jr., senior vice President and director of store operations for Hanson; Dan Hanson Sr., CEO and president of Hansen; Xue Lili, vice general manager, ZCParts, Shandong; Steven Ganster, managing director, Technomicasia; Wu Yujun, president; Zhongkai Zhixing Trading Co.; Shang Baohe, president, Carzone, Jiangsu; Zhang Hanlin, general manager and president, Shanghai Shuanglin; Zhang Xiwen, general manager, Shanghai Jiapei/chairman-CAAPA; and John Washbish, CEO and president, Aftermarket Auto Parts Alliance.)
The charter members of the China Aftermarket Auto Parts Alliance (CAAPA) wrapped up their initial fact finding and discovery tour of North America with meetings with three Alliance shareholders in Southern California.
The visitors gained learned skills to take back to their own markets from the established operators in North America, according to the Alliance.
The leadership teams at Warren Distributing Inc., Metro Auto Parts Distribution, and Hanson Distributing Co. focused on best practices in the areas of distribution, the criticality of forging strong ties with service center customers and effective sales and marketing techniques.
At Warren Distributing, the group met with President Brian Weiss and Vice President Sales and Marketing, Pat Winters. They toured the master Santa Fe Springs facility and one of the Warren satellite facilities in Santa Monica.
The next stop was Pico Rivera and Metro's new distribution center. A Q&A session about the facility followed with Robert Ramirez, general manager, and Ken Auer, operations manager.
The final stop was Hanson Distributing. Dan Hanson Sr., CEO and president, Dan Hanson Jr., senior vice president and director of store operations, Steve Cox, chief operating officer and Berng Yeh, vice president and director of fulfillment and data services, led a master warehouse tour and presentation on warehouse operations. They then traveled to stores including California Auto Supply in Pomona and Walnut Auto Parts in Rowland Heights.
"The experience of visiting these incredibly impressive operations is something that will help us tremendously when we return home," says Zhang Xiwen, chairman of CAAPA. "Our own markets are growing and evolving every day and the experience here is almost like peering into the future. It was both overwhelming and invigorating."
"We packed a lot into a one week visit," says John Washbish, CEO and president of the Alliance. "Our new China partners were not exactly sure what to expect during their visit to America. We promised to teach them how we 'do it' at the Alliance and with the expert assistance of these three world class shareholders, we more than delivered on our promise! Our new members went home with plenty to chew on!"
Modern Tire Dealer